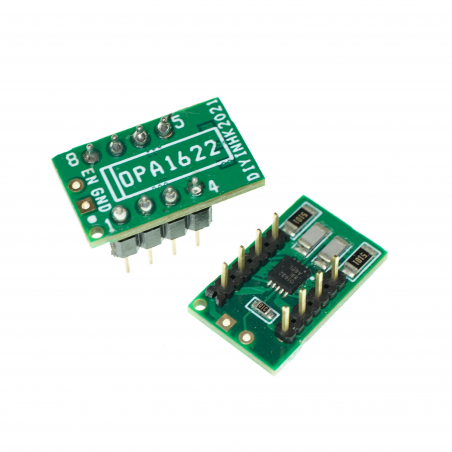  
OPA1622 DIP Version Ultra High Quality Audio Operational Amplifier
1 piece OPA1622

4 layer gold plated PCB

SMT component are soldered, thru-hole pin are not soldered
Features:
1. 0.1uF C0G decoupling capacitor at only 1mm distance from the opamp.(C0G capacitor is expensive but it has many advantage, the capacity value is solid stable and it do not varies on temperature, voltage, or physical vibration.
2. decoupling capacitor and the opamp are placed in the same layer with largest width copper trace.
3. Advanced layout, copper trace from the opamp chip is directly connected to the socket pin on the same layer. It can avoid unnecessary noise pick up from the surrounding or oscillation due to long trace.
4. four layer PCB, the middle two layer and the top layer is solid copper plane for maximum heat dissipation.
Tips:
1. The size of this PCB is bigger than normal DIP8 package, the front side from pin1 pin8 is 3mm longer, the other side from pin4 pin5 is 6mm longer. Some modification may be needed if there are thruhole components behind on the main DAC pcb, move the thruhole components (mostly electrolytic capacitor) to the other side of the main DAC pcb can solve the problem.
*This item is in limited stock, maximum four per buyer. Please contact us if you want to buy more than four.

 
Data sheet
Length

10mm

Width

10mm

Thickness

2mm
Customers who bought this product also bought: