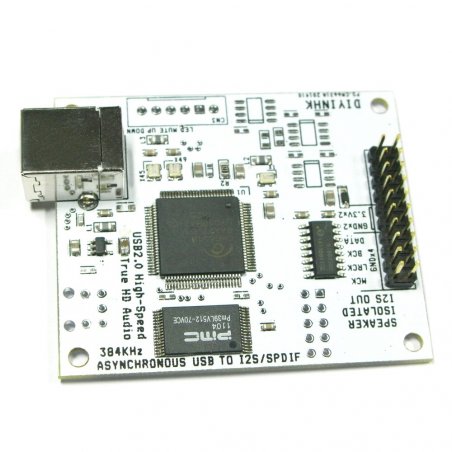  
Isolated 32bit 384kHz USB to I2S/SPDIF CM6631A PCB
*NDK NZ2520SD Ultra low phase noise oscillator is using now!
Galvanic Isolated 32bit 384kHz Asynchronous USB2.0 to I2S / SPDIF PCB CM6631A with ultralow noise 6.5uV regulator
Feature:
1) Two dedicated oscillator 49.152Mhz and 45.158Mhz with 6.5uV ultralow noise regulator for lowest jitter operation and highest clarity audio.
2) NDK NZ2520SD Ultralow phase noise oscillator are sourced from Japan directly (guarantee no fake product from China) According to the official datasheet, the phase noise is much better than the famous crystek 957 under 25khz(human listenable range)
For easier comparsion(lower is better), we overlay the two phase noise graph at the same scale, under 25khz(human listenable range) nz2520sd(red line) is better, over 25khz(human unlistenable range) crystek 957 is better.

3) 0.1% Low noise thin film resistor, C0G Murata capacitor and 10ppm NDK crystal are sourced from digikey (guarantee no fake product from China)
4) Two I2S output is available. Diyer can flash the firmware and enable Headphone I2S(non-isolated) and Speaker I2S(isolated) if needed.
5) Solid ground plane (a must for high speed digital circuit) and No via in active circuit (via inductance always create jitter problem)
6) Gold plated USB connector for lowest contact resistance and highest signal integrity (Molex, FCI, or other depends on stock)
7) Compact size 50mm x 60mm
8) SPDIF (coaxial /optical) connection is routed out for diyer to mod if needed
9) 100% tested before shipped (each sampling rate 44.1/48/96/192/384kHz i2s output are checked individually)
10) Original High quality JST XH connector B2B-XH-A for 3.3V power supply input
Windows 7/8/XP Driver is available to download from our website
*USB2.0 is a must for 32bit/384kHz operation
*Use a fresh install of windows and a dedicated USB port always avoid problem and run stable
*The length of I2S connection to the DAC chip should be as short as possible for best result and below 10cm is recommended
Please check the following I2S signal specification to decode each sampling rate:
*We have tested AK4399 ES9023 PCM1794A for 192kHz and ES9018 PCM5102A for 384kHz and they can work with this PCB perfectly.
| | | |
| --- | --- | --- |
| LRCK | BCK | MCK |
| 44.1kHz | 2.8224Mhz | 22.5792Mhz |
| 48kHz | 3.072Mhz | 24.576Mhz |
| 88.2kHz | 5.6488Mhz | 22.5792Mhz |
| 96kHz | 6.144Mhz | 24.576Mhz |
| 176.4kHz | 11.2976Mhz | 22.5792Mhz |
| 192kHz | 12.288Mhz | 24.576Mhz |
| 352.8kHz | 22.5792Mhz | 45.1584Mhz |
| 384kHz | 24.576Mhz | 49.152Mhz |
This item is in limited stock, maximum 1pcs per buyer. Please contact us if you want to buy more than 1, thanks.
Everybody know PC is a noisy environment, with this galvanic isolated USB to I2S PCB, no ground noise from PC inject to DAC anymore. It's for the most demand audiophile and highest charity audio. It is the best asynchronous USB2.0 to I2S PCB for audiophile Diyer to enjoy.
Customers who bought this product also bought: