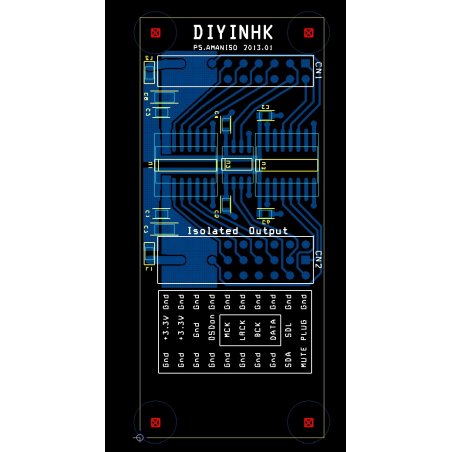  
Free Amanero Isolator bare PCB Twin pack
This bare PCB is FREE to all DIYER!
1 quantity = Two PCB
Free Amanero Isolator bare PCB Twin Pack
This bare PCB is FREE to all DIYER!

The PCB is very simple, an isolator between input and output. Diyer need to get the component from digikey mouser or rs-online and solder smt component

Bill of materials:
C1-C6: MLCC 0.1uf 16V X7R 0805 (Murata GRM21BR71H104KA01L or equivalent)
C7-C8: MLCC 10uf 16V X7R 1206 (Murata GRM31CR71C106KAC7L or equivalent)
L1-L2: Ferrite bead 600Z 2A 0805 (TDK MPZ2012S601A or equivalent)
U1: 150Mbps 4/0 channel Isolator (Texas Instruments ISO7640FM or equivalent)
U2: I2C Isolator (Texas Instruments ISO1540 or equivalent)
U3: >1Mbps 3/0 or 4/0 channel Isolator (Texas Instruments ISO7230/ISO7240 or equivalent)
Notes: If I2C/DSDon/Plug/Mute signal is not used, U2 and U3 is not needed to install.
Data sheet
Length

68.5mm

Width

30mm

Thickness

1.6mm
Customers who bought this product also bought: