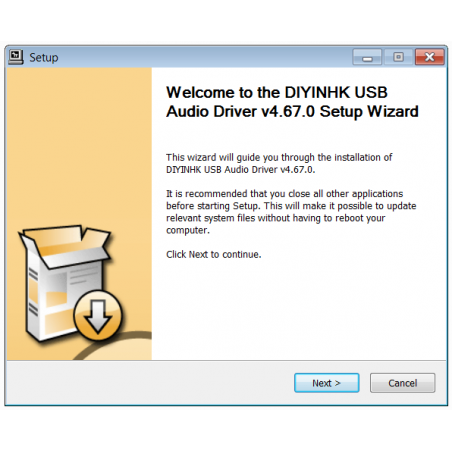  
DIYINHK USB Audio Driver V4.67 [Full Version and Signed]
This driver only support our XMOS PCB, please do not order if you do not own our XMOS PCB

Support upto PCM 768K, DoP/Native DSD512 and Multichannel playback


This driver is full version and signed for easy windows installation.
Attention:
Please do not order this item if you do not own our 768K or multichannel PCB. If native DSD512 and multichannel capability is not needed in windows, we also have free windows driver available to download. Please notes this item only provide electronic download with no physical delivery.
This driver is signed and support our XMOS PCB in Windows 7/8/10 (XP is not supported)
This driver is updated to v4.67, user can download it again for the latest version inside the same download link in their order history if they have ordered the other older v4.x before.
This driver is re-updated at 2020-10-30 and support our xmos pcb based on XUF216 and XU208
Installation steps:
1) Uninstall old version if any
2) Reboot machine
3) Install new version
Download link:

The download link is in the order detail web page
1) click Welcome [your name]
2) Order history -> details
3) Product -> DIYINHK USB Audio Driver
Notes:
1) The driver is complied and signed by the original software manufacturer Thesycon,
If the Thesycon sign is valid, the software is unmodified.
2) For some windows 7 user, if the installation complete but a pop up windows shows the driver is not signed,please install microsoft hotfix kb3033929
For 64bit windows 7, https://www.microsoft.com/en-us/download/details.aspx?id=46078
For 32bit windows 7, https://www.microsoft.com/en-US/download/details.aspx?id=46148

More detail about this problem, https://support.microsoft.com/en-us/kb/3033929
Customers who bought this product also bought: