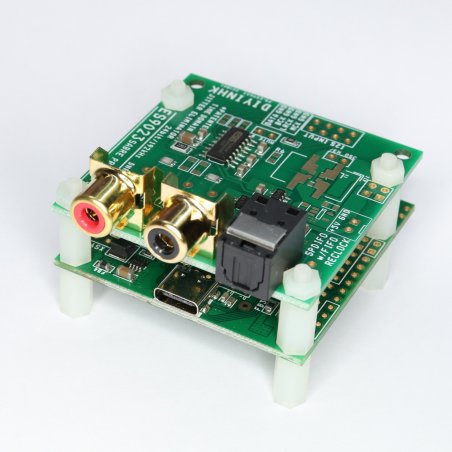  
ES9023 192kHz I2S DAC, XMOS USB input, 4uV Low Noise Regulator
USB to high quality optical SPDIF output(with FIFO reclock) and analog RCA output(2V rms)
High quality Gold plated Type C USB socket, USB 2.0/3.x compatiable
OEM are welcome, large discount for qty order
Warm and Clear Sound
The combo option includes XMOS PCB and ES9023 DAC everything pre-assembled. It can be used immediately and USB powered from the computer.

The bare pcb option includes ES9023 DAC PCB with all SMT component soldered, thru-hole component are not included.
Features:
1) ES9023 DAC Chip (with ESS Patented Time domain Jitter Eliminator, the same renowned technology used in the famous ES9018))

2) Three low noise linear power regulator (use of decade old LM317/1117 regulator is kidding for audiophile), dedicated regulator for the spdif optical output socket.
3) The SPDIF output signal is connected directly from the XMOS pcb, jitter eliminated by the well known Flip Flop FIFO reclock circuit.

3) Solid ground plane (a must for high speed digital circuit)
4) 0.1% Low noise thin film resistor and C0G Capacitor sourced from Digikey USA (guarantee no fake product from China)
5) Gold plated USB socket and I2S input connector with four ground return path dedicated for each I2S signal(lowest contact resistance and highest signal quality)
6) Extreme diyer can cut the external MCLK trace and uses the pre-allocated universal oscillator footprint space(CRYSTEK957/7050/5032/3225) to install a high quality 50M oscillator for asynchronous MCLK mode.
7) Diyer can easily tune for their favourite sound with other passive Low pass filter RC combination with the pre-allocated 1206 SMD and 5mm lead space film capacitor footprint space

8) Compact size 50mm x 50mm
No drivers needed for MAC OS version 10.6.4  and above
No drivers installation required for Linux with UAC2 compliant kernel
ASIO/KS/WASAPI/Direct Sound drivers for Windows 7 to 10 (32 and 64 bit)
Fully featured Thesycon driver package (without 30 min. periodic beeps)
Windows 7/8/10 Driver is available to download from our website:
*Latest version of Windows 10 already includes built-in USB audio driver, this device can be used immediately without installation of any driver.

Specification:
1) I2S Input (MCLK, LRCK, BCK, DATA, GND)
2) Output level: 2.0V RMS
3) Resolution/Sampling Rate: Up to 24bit/192KHz
4) Supply: Regulated or Unregulated 4-5.5Vdc/31mA+output loading(DAC pcb)+300mA(XMOS PCB)

Customers who bought this product also bought: