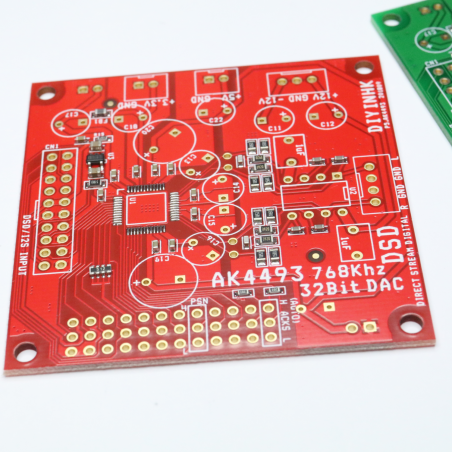  
768kHz/32Bit AK4493EQ DAC BARE PCB, I2S/DSD input
Industry highest 768K 32bit PCM audio and 22.4Mhz DSD sound,
Dedicated onboard external low noise 1.8V regulator, sounds better than AK4490, AK4495 in most case,
Direct pin to pin compatible upgrade to our AK4490/4495 PCB,
*This item includes PCB with no DAC chip, all SMT component and low noise regulator are soldered, thru-hole component are not included. (PCB color may be Green or Red, depends on the stock.)
The AK4493 is a new generation Premium 32-bit 2ch DAC with VELVET SOUND technology, achieving industry's leading level low distortion characteristics. The newly adopted OSR-Doubler technology establishes wide signal band, low power consumption and low distortion characteristics.
Moreover, the AK4493 has six types of 32-bit digital filters, realizing simple and flexible sound tuning in a wide range of applications. The AK4493 accepts up to 768kHz PCM data and 22.4MHz DSD data, ideal for high-resolution audio source playback.
Features:
1) Dedicated external low noise 1.8V regluator, sounds better than AK4490/4495, and competitive to AK4497(when no external 1.8v regulator used)
2) Solid ground plane with careful split of digital and analog portion(a must for highest fidelity audio)
3) No Via in active circuit (via inductance always create jitter problem)
4) 0.1% Low noise thin film resistor and C0G Capacitor sourced from Digikey USA (10x higher price than those thick film resistor from China)
5) Gold plate I2S input connector and four GND return path dedicated for each I2S signal(lowest contact resistance and highest signal quality)
Customers who bought this product also bought: