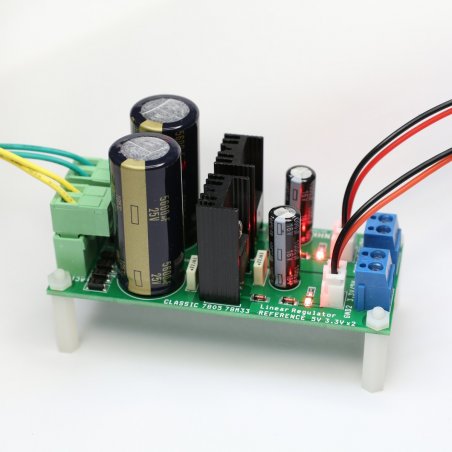  
Classic Reference 78xx power supply linear regulator 3.3V 5V
78M33 7805
Buy 3 for USD9.95 each only!
This item includes all component as shown in the image(except cable).
*All SMT component are soldered, thru-hole component are not soldered
Feature:
1) Two individual rail Classic 78xx regulator. Each rail include four 1A 1N4007 diode in full bridge rectifier configuration for AC input or DC input.
2) Standard 78xx regulator circuit follow the official datasheet to achieve reference class performance

2a. Output includes LED to fulfill the 5mA minimum current loading requirement of 78xx regulator

2b. Output protection diode is included on the PCB.
3) Panasonic EEUFC low ESR 5600uF capacitor and the film capacitor are sourced from authorized distributor Arrow Electronics directly (guarantee no fake product from China)
4) Compact Size 40mm*90mm
Assembly Instruction:
1) Double check the polarity of the large capacitor is correct before connect AC power input to the PCB, the capacitor will explode immediately if it is reversed connected. No return is accepted after the pcb is soldered.
2) For 78xx regulator, the input voltage must at less 2V higher than the output voltage(i.e. the DC voltage measured at the large capacitor must 2V higher than the output voltage,

3) According to the official datasheet, the rated maximum output current of 7805 is 1A, 78M33 is 500mA
*Heatsink color depends on stock

Customers who bought this product also bought: