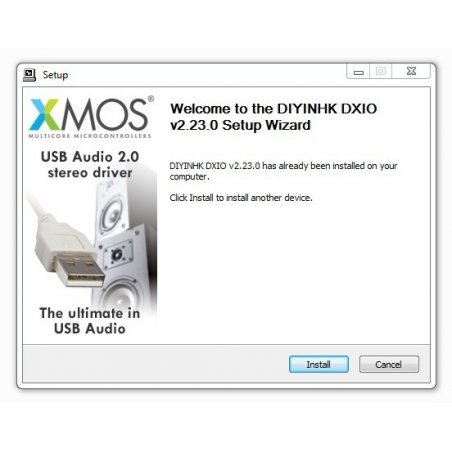  
DIYINHK DXIO Stereo USB Audio Driver v2.23 [Free]
For Windows XP/Vista/7/8/10 (32 and 64 bit)

Support BGA XMOS and XCORE200 XU216 PCB

Support upto PCM 768K and DoP DSD256 stereo Playback

Installation steps:
1) Uninstall old version if any
2) Reboot machine
3) Install new version
Tips:

Thanks for user has the following suggestion for windows 8 driver installation. Problem solved - I was using Windows 8 which needed driver signing to be turned off in order to get the install working. You should note this on your instructions as Win 8 just fails without any message about driver signing!
Download link:

The download link is in the order detail web page
1) click Welcome [your name]
2) Order history -> details
3) Product -> DIYINHK DXIO Stereo USB Audio Driver v2.23
Customers who bought this product also bought: