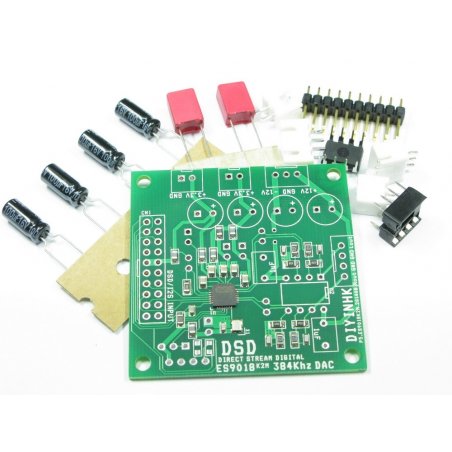  
ES9018K2M XMOS DSD DXD 384kHz USB DAC with Bit-perfect volume control and SPDIF input
First in the market DSD volume can be bit perfect controlled directly using WIN/MAC/LINUX system volume mixer with our customized firmware.
No need to annoying manual switch ASIO output everytime for PCM to/from DSD playback in foobar2000 as using the other famous USB I2S module.
New isolated DAC PCB option.
ES9018K2M is the new flagship model 127dB DNR -120dB THD+N of K2M series from ESS technology who also make the renowned ES9018. It includes the same Patented Time domain Jitter Eliminator used in ES9018 and latest PLL enhancement.
This ES9018K2M PCB uses ultralow phase noise NDK NZ2520SD 80Mhz oscillator with optimized layout(2mm decouple capacitor distance) and selected high quality components(0.1% low noise thin film resistor, C0G capacitor in the LPF, WIMA Film capacitor and panasonic low ESR aluminum electrolytic capacitor etc), it can playback upto 384khz I2S/DSD128 input asynchronously with OSF on and no unlock problem. The USB DSD DAC combo includes XMOS USB to I2S PCB, ES9018K2M DSD DAC PCB and an LED sampling rate indicator PCB.

*The single ES9018K2M DAC PCB can be used individually with only 3 wire I2S signal connected from Raspberry Pi, BeagleBone Black, cm6631a, amanero etc.

*When the ES9018K2M PCB used with our customized I2C control firmware XMOS USB PCB, extra features include a simple jumper(labeled SPDIF ON) to switch between SPDIF(labeled SPDIF IN) and USB input, bit perfect volume control as well as DSD/PCM playback in foobar without the need to switch ASIO driver everytime.
*All SMT component are soldered, some thru-hole component are not soldered.
*High performance and compact DSD DAC solution for everyone.
The most distinctive features of this USB DSD DAC is our customize firmware for bit-perfect volume control. Most people may not notice many so called "bit-perfect" device on the market is bit-perfect ONLY When You Play At FULL Volume. If the volume is not set to maximum in the computer, the audio data is scaled/altered before sending to the DAC chip and the result is signal to noise ratio seriously affected.
Related paper on this important feature:
http://www.esstech.com/PDF/digital-vs-analog-volume-control.pdf
Compare on the audio data flow path:
General device on the market: "Partial" Bit-perfect only at full volume
Computer -> USB -> XMOS/CMxxxx/AMxxxxx -> I2S(audio data scaled/altered if not at full volume) -> DAC Chip (es9018/cs4398/pcm1794 etc.)

This USB DSD DAC: Complete Bit-perfect at any volume
Computer -> USB -> XMOS -> I2S(audio data bit perfect at any volume)+IIC volume control -> DAC Chip (es9018/cs4398/pcm1794 etc.)

After many hours of work on customize the xmos firmware on this USB DSD DAC, audiophiles can move the volume control bar up and down freely in the computer volume mixer panel and still enjoy bit perfect audio. DSD audio as well as PCM audio can also be bit perfect volume control easily from the computer. Please notes there are many so called bit-perfect device can play DSD but you must set the computer master volume control to full volume.

 FAQ:
1)Does the volume is controllable in Windows/MAC/Linux when playing DSD using this combo? I find that I cannot control the DSD volume when using the other famous brand DSD USB output adapter
The DSD sound volume is controllable using our xmos DSD combo in all USB audio 2.0 compatible OS including WINDOWS/MAC/LINUX system volume mixer.
2) Do I need to switch ASIO driver everytime when playing between PCM and DSD music file? I find it's annoying to do it when using the other famous brand DSD USB output adapter.
Our xmos combo can use the same output ASIO: foo_dsd_asio in foorbar2000 to play PCM and DSD music file. No need to go to foobar2000 preferences everytime to change the output device.

3)Is the xmos i2s Bit-perfect volume control PCB in the combo can be used connect to other DAC chip?
Different DAC chip require different IIC volume control command and different DSD PCM switch command. The XMOS PCB in this combo is designed only for use in this combo.

4)Is circuit schemetic available?
The circuit is designed and printed on the PCB directly.

5)Some people told uses IIC software control can interference the DAC performance, is it true?
The IIC volume control is only active when you are moving the volume bar to change the volume, it is totally stopped when not in use.

6)What sampling rate are supported?
44.1-384khz and DSD64 DSD128

7)Any annoying pop sound when playing between PCM and DSD format?
No pop sound. The ES9018K2M has automute feature when switch between pcm and dsd.
8)Can I increase the voltage of AVCC to higher than 3.3V as I done to the old ES9018?
The ES9018K2M offical specification of AVCC_L / AVCC_R is 3.3V+-5%. We have prototype tested higher voltage, it is partial damage and it have problem playing 384kHz sampling rate afterward.(playback 192kHz do still work)

User guide:
1)The latest verison of this PCB combo uses one 3.3V (>300mA), one 3.3V (>100mA) and one +-12V (>100mA) regulated power supply in the default configuration.
2)The SPDIF input(labeled SPDIF IN) signal level requirement is 3.3V, it is directly connected to the ES9018K2M DAC chip to achieve lowest jitter performance. It can be used to connect SPDIF optical receiver directly(Toshiba TORX147 or equivalent). If it is used to connect coaxial SPDIF, an interface circuit must be used to convert the standard spdif 0.6Vp-p to 3.3V logic level.

3)For bit perfect playback at any volume when using our customized firmware XMOS ES9018K2M PCB combo, please use the Windows/MAC/Linux OS default builtin system master volume mixer control. Don't use the foobar volume control, it scale/alter the audio data internally.
4)The PCB is designed to be DIY friendly. Diyer can cut the trace and uses the socket labelled AVCC_L(3.3V), AVCC_R(3.3V), oscillator VCC(3.3V) for each to use individual power supply.
5)The differential output directly from the DAC has labelled with preallocated 2.54mm spacing socket for diyer easily connecting to their favorite IV and LPF and bypass the default onboard one.
6) All dual opamp in single dip8 package IC can be used for this PCB output stage, such as OPA2134 AD8620 etc. One free opamp is included in the package and the model depends on stock.

7)For Diyer requires more deeper customization, the ES9018K2M datasheet can be requested from ESS authorized distributor directly.
DSD playback steps using foobar2000 in Microsoft Windows:
1. Download and install the latest version of Foobar2000 from the official website

http://www.foobar2000.org/download

2. Download and install the official ASIO output plug-in for Foobar2000

http://www.foobar2000.org/components/view/foo_out_asio

3. Download the latest version of Super Audio CD Decoder plug-in for Foobar2000

http://sourceforge.net/projects/sacddecoder/files/foo_input_sacd/

3a) unzip and double click to install ASIOProxyInstall-x.x.x.x.exe

3b) Foobar > Files > Perferences > Components > Install > foo_input_sacd.fb2k-component

4. Configure the output device: Foobar > Files > Perferences > Playback > Output > Device (ASIO: foo_dsd_asio)

5. Configure the ASIO output: Foobar > Files > Perferences > Playback > Output > ASIO > foo_dsd_asio(double click)

5a) ASIO Driver: DIYINHK DXIO USB Audio

5b) DSD Playback Method: DoP Marker 0x05/0xFA

6. Foobar > Files > Perferences > Tools > SACD > ASIO Driver Mode: DSD
More detail: http://www.google.com/search?q=foobar+dsd
Assembly Instruction:

1) Double check the polarity of all capacitor is correct and no short circuit of soldering joint to each other before connect power input to the PCB, the capacitor will explode immediately if it is reversed connected. No return is accepted after the pcb is soldered.
Customers who bought this product also bought: