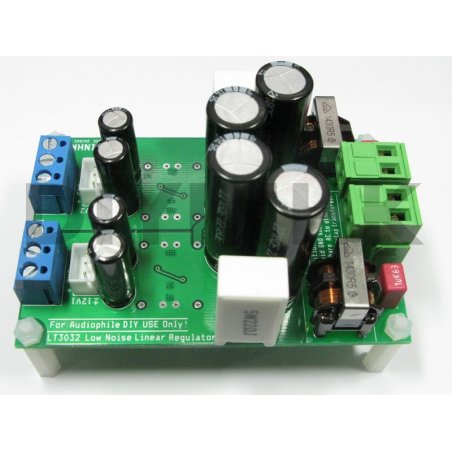  
LT3032 Low noise DAC power supply linear regulator Dual +-12V 150mAx2
Unique hybrid choke coil to remove common and differential mode noise
Large value CRC input filter
Promotion: Buy 2 get USD20 OFF!
This item includes PCB with two LT3032 low noise regulator and all SMT component are soldered, thru-hole component are not soldered.

It is always a mystery for most people why the same DAC usually sound better at night. The reason is the noise pollution through the AC line from all the other equipment in the same room. In the day time, More electronic equipment turn on and there are more pollution. This regulator PCB equiped with high quality hybrid choke coil and CRC input filter to remove the common mode noise and differential mode noise from the input and provide the best sound result from time to time.

Feature:
1)Two Linear Technology LT3032 Low noise regulator.
2)High quality hybrid chokes coil, Panasonic EEUFR low ESR 2200uF capacitor and WIMA film capacitor are sourced from authorized distributor Arrow Electronics directly (guarantee no fake product from China)
3)Huge value CRC input filter 2200uF 22ohm 5W.

4)Two individual +-12V 150mA rail for flexible power configuration:
a)Config 1: Headphone amp(Our D1 Headphone amp current usage is ~60mA, D2 is ~30mA) and DAC IV opamp
b)Config 2:left channel DAC IV opamp and righ channel DAC IV opamp

5)Preallocated 5mm footprint for optional/additional input and output capacitor

5)The PCB follows the official demo circuit for ultimate performance.
6)Compact size 60mm x 90mm
Assembly Instruction:
1) Double check the polarity of the 2200uF capacitor is correct before connect AC power input to the PCB, the capacitor will explode immediately if it is reversed connected. No return is accepted after the pcb is soldered.
This item is in limited stock, maximum 2pcs per buyer. Please contact us if you want to buy more than 2, thanks.
Data sheet
Length

90mm

Width

40mm

Thickness

1.6mm
Customers who bought this product also bought: