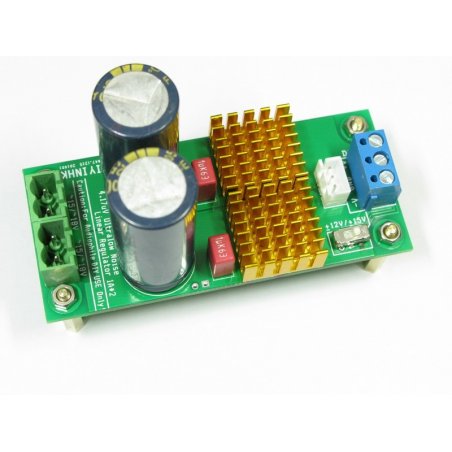  
4.17uV Ultralow noise DAC power supply regulator +-12/15V 1A
This item includes PCB with two TPS7A4700 4.17uV ultralow noise regulator and all SMT component are soldered, thru-hole component are not soldered. Heatsink in gold or black color (depend on stock)

This is the best ultralow noise power supply regulator designed to supply the power of opamp to totally squeeze it's performance out. Use of decade old 78xx / lm3xx /lt10xx is simply kidding for audiophiles.
Feature:
1) Texas Instruments industry's lowest 4.17uV ultralow noise TPS7A4700 regulator.
http://www.ti.com/lit/gpn/tps7a4700
2) Panasonic EEUFC low ESR 5600uF capacitor and WIMA film capacitor are sourced from authorized distributor Arrow Electronics directly (guarantee no fake product from China)
3) 16 thermal via are placed directly under the chip for maximum thermal transfer to the large copper area. High quality 3M 8810(sourced from digikey) adhesive thermal transfer tape are used for maximum thermal path to the heatsink.

4) Two individual 1A 12V/15V rail config as +-12/15V and change with a switch easily.
5) The PCB follows the official demo circuit for ultimate performance.
6) Compact size 40mm x 90mm
Assembly Instruction:
1) Double check the polarity of the 5600uF capacitor is correct before connect AC power input to the PCB, the capacitor will explode immediately if it is reversed connected. No return is accepted after the pcb is soldered.
This item is in limited stock, maximum 2pcs per buyer. Please contact us if you want to buy more than 2, thanks.
Data sheet
Length

90mm

Width

40mm

Thickness

1.6mm
Customers who bought this product also bought: