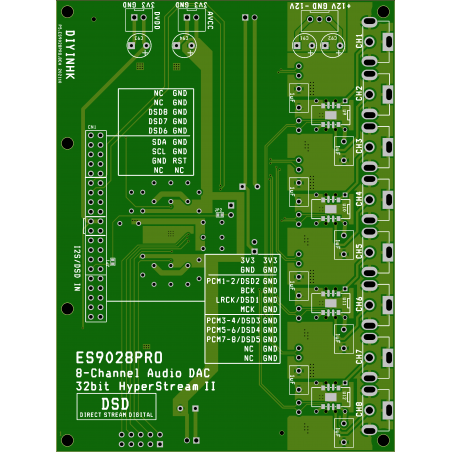  
8 Channels 384kHz 32bit ES9028PRO PCM DXD DSD Audio DAC
4 layer PCB, two solid middle ground plane
NDK NZ2520SD 80Mhz low phase noise oscillator
USB Type-C socket, Gold plated RCA socket
Three ultralow noise 1.2V linear regulator
Free 0.96 OLED display until stock last
This item includes 4 layer PCB with all SMT component soldered, thru-hole component are not soldered.
(The PCB layout design is optimized and it is simple to minimize any lose of the dac chip performance, the circuit can be read from the top and bottom layer directly, the middle two layer is solid ground plane. Please note the included opamp used in the iv stage is not for audiophile usage to minimize the kit price, the dac performance is limited as reported by some customer on the internet forum, high end opamp and good regulated power supply can increase the performance, the pcb also includes hole for direct dac pin output connection for easy use of external IV stage to utilize the full performance of the DAC chip.)
Features:
1) ES9028PRO 32-bit 8-channel audio DAC chip
2) 4 layer PCB, the middle two layer is solid ground plane (a must for high speed digital circuit)
3) NDK NZ2520SD 80Mhz low phase noise oscillator is connected to the XIN of ES9028PRO in 1CM short distance(async MCK default). User can also try other offboard oscillator easily by disable this onboard oscillator using the behind /EN socket(short=disable). User can also try to short JP1 and JP2 to use the MCK from the XMOS PCB after disable this onboard oscillator(aka sync MCK, not recommend for higher than 96k PCM playback due to the lower MCK oscillator frequency 80MHz vs 22/24.xxxMHz from XMOS).
4) Three ultra low noise 1.2V linear regulator, gold plated RCA socket
5) All 15 pieces MLCC decouple capacitor around the ES9028RPO dac chip can be replaced by other thruhole film type capacitor easily(such as WIMA) using the preallocated thruhole soldering pads. Please try the default mlcc before modification, modification may damage the pcb.
6) All pin from the ES9028PRO is routed out and connected to the onboard 2.54mm socket, user can set the dac chip to their favourite setting.
7) The DAC chip differential output is connected to eight 2.54mm socket, user can disable the onboard IV stage and uses offboard IV stage easily.
8) Advance diyer can use the preallocated soldering pads in the PCB to install surface mount Opamp (LME49880 on the top side or OPA1622 on the bottom side)
9) Compact size 120mm x 90mm
Specification:

1) I2S/DSD Input: please refer to the ES9028PRO datasheet
2) Output level: 2V RMS 8 channels
3) Resolution/Sampling Rate: upto 32bit / 384KHz
4) Supply: Regulated 3.3V1(800mA), 3.3V2(200mA), +-12V(300mA)

User Guide:
1) No drivers needed for MAC OS version 10.6.4  and above, No drivers installation required for Linux with UAC2 compliant kernel
2) Full feature signed driver for windows 7/8/10 is available for purchase in the driver download area.
http://www.diyinhk.com/shop/9-driverdatasheetmanual
3) Use a fresh install of windows and a dedicated USB port always avoid problem and run stable,
4) Windows is always output stereo by default. For windows 7, users are required to select the multichannel sound device and press configure to set each channel output speaker.

FAQ:
1) Can I playback multichannel DSD? Can I playback 8 channels 384k PCM?

ES9028pro can playback multichannel DSD and 8 channel 384k PCM, but the current xmos firmware only playback 2 channel DSD and 8 channel 192kHz PCM. User can wait for the newer firmware from XMOS or user can modify the firmware themselve to support multichannel DSD and 8 channels 384k PCM immediately. (Please notes the item price includes only the hardware. For programming support, please refer to the xmos official website and xcore.com for question about xmos programming, the PCB portmap is shown in the store XMOS multichannel PCB item image)

*The usb audio source code can be downloaded from xmos.com and xcore.com.
*This item is in limited stock, maximum two per buyer. Please contact us if you want to buy more than 3.
*OEM are welcome, large discount on volume pricing, free customized logo on the bottom right corner of the OLED display for 10pcs+ order.

Data sheet
Length

50mm

Width

30mm

Thickness

1.6mm
Customers who bought this product also bought: