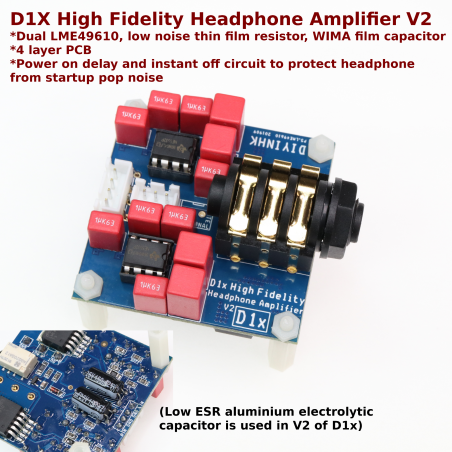  
D1X High Fidelity Headphone Amplifier V2
Dual LME49610, WIMA Film capacitor, low noise thin film resistor
Four Layer PCB
Power on delay and instant off output relay circuit to protect headphone and avoid click noise.
This item includes PCB with all SMT component soldered, some thru-hole component are not soldered.
Following our renowned D1 High Fidelity Headphone Amplifier. We are proud to release the new D1X, the internal four layer PCB layout structure is further optimized, added tantalum capacitor for even better bass respond. The new distinctive feature is our customized power on delay and instant off output relay circuit. It can avoid annoy power on/off click noise and with the DC servo circuit, the expensive headphone is further protected from damage.

With over 30 years listening headphone experience and over 4 years developing and improving the PCB layout and choice of component. The D1X headphone amplifier target for professional recording studio quality is finally arrived.
This is the best class A high fidelity headphone amplifier for diyer to enjoy!

Features:
1. Four layer PCB with dual dedicated LME49610 for each channel, optimized layout for star ground, thermal dissipation and 2mm decoupling distance. The sound is totally different and working in another level than other LME49610 headphone amp product.

2. Advance power on delay and instant off output relay circuit to protect headphone and avoid click noise.

3. 0.1% low noise thin film resister.
(10x lower noise and 10x expensive than common thick film resister)
4. Full gold plated(2 µm Ag) 6.35mm(1/4") headphone socket
(10x lower contact resistance than non-gold plated socket, the sound output is much more clear, non-audiophiles should also hear the difference!!)
5. No thermal relief in soldering pad.
(Thermal relief is only used for soldering more easily but extremely bad for sound. The soldering pad of this PCB is totally eliminated thermal relief to maximize sound quality. Diyer can easily google "thermal relief" for university research paper on this subject)

6. All component is sourced from digikey and mouser, guarantee no fake component used from China.
Assembly Instruction:
1) All dual opamp in single dip8 package IC can be used for this PCB input stage, such as OPA2134 AD8620 NE5532 etc. Two free opamp are included in the package and the model is depends on stock.

2) Double check the opamp is installed in the correct orientation and all soldering joint is good with no solder bridge exist. The component will damaged immediately if it is short circuit by solder bridge. No return is accepted after the pcb is soldered.
3) Please notes the soldering of this PCB is harder(no thermal relief, 2mm decoupling distance) than other DIY KIT which target for low end use. Uses good soldering iron(e.g. hakko FX950/951) and good solder(e.g. multicore crystal 511) for making good soldering joint.

Specification:

1) Recommended power supply: Regulated +-12V 1A
2) Original high quality JST XH connector B3B-XH-A for power input and B4B-XH-A for LR input

The PCB circuit follows the official demo schematic with custom optimization for ultimate performance. Please refer to LME49610 datasheet for detail and modification.
http://www.ti.com/product/lme49610
This item is in limited stock, maximum 2pcs per buyer. Please contact us if you want to buy more than 2, thanks.
Data sheet
Length

50mm

Width

50mm

Thickness

1.6mm
Customers who bought this product also bought: