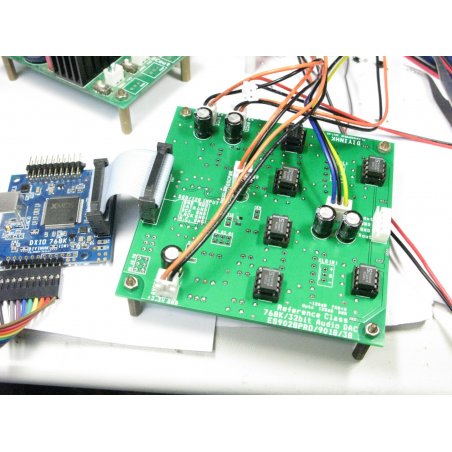  
ES9028PRO ES9018 32bit Audio DAC PCB
ES9028PRO ES9018S ES9038PRO compatible
Buy 2 Get USD20 OFF!
This item includes the latest version PCB with ES9028PRO DAC chip and LP5907-1.2V ultralow noise regulator soldered(optional), no other component included.
ES9028PRO is the update fine tuned version of the famous ES9018, ES9038PRO is equal to four ES9028PRO in parallel.

The second photo shows an example connection with our USB to I2S PCB and power supply. Digital 3.3V, Oscillator 3.3v. AVCC_L 3.3v, AVCC_R 3.3V, Opamp +-12V

When this PCB is used with ES9028PRO and the onboard default components value, single end output is 2Vrms, balanced output XLR is 5.6Vrms
Feature:
1. ES9028PRO, ES9038PRO and ES9018 compatible

2. Advanced layout and solid ground plane

3. Balanced output and Single end output
4. Dedicated individual DVCC, AVCCL, AVCCR, Oscillator 3.3V power supply

5. All component are layout with hybrid soldering pads for thru-hole and SMT component to increase diyer flexibility
6. Universal oscillator soldering pads fits 7050 5032 3225 2520 and Crystek CCHD950 footprint. It also has enable pin for diyer to choose synchronous or asynchronous operation easily. It also has U.FL connector soldering pads for install to connect external oscillator module.
7. Compact size 10cmx10cm
Tips:
1. The default setting of JP1-JP5 is used for ES9028PRO smart switch DSD/PCM stereo input mode. User can change the jumper setting(cut and short the jumper following the word in the PCB) if ES9018 is used for smart DSD/PCM stereo input wiring. PCM can be playback immediately without external MCU I2C to set the DAC register.

2. All single opamp in dip8 package can be used. (please notes OPA1688 in our store is dual opamp in dip8 package and it is not suitable for this PCB.
3. The IV resistor R1-R4 value printed on the PCB is for ES9028PRO, if ES9038PRO is used, as ES9038PRO equal to four ES9028PRO/ES9018 in parallel, user must divide the IV resistor value by 4. The opamp used in the IV stage must also meet the current output specification of ES9038PRO in stereo mode. It can be over 70mA, and you will find most famous opamp in the market cannot be used, they will overheat and distort. If the users want to use ES9038PRO, our four layer PCB with all the surrounding fine tuned value components should be the best choice.
4. DAC Datasheet is not included for user purchase the bare PCB without DAC chip.
5. The oscillator components C1(0.1uf 0603) X1 do not need to install if the user uses the MCK from our USB to I2S for sync operation.
6. The PCB runs in hardware mode(default), it also has SDA SCL routed out for Diyer to change the ES9028PRO ES9018S ES9038PRO register if needed.
The schematic and BOM is printed directly on the PCB for diyer easier to assembly. It follows the official demo circuit for ultimate audio performance.
It is a product for diyer to enjoy, there are unlimited possibility. The PCB layout and circuit is improving from time to time, latest version of the PCB will be shipped.
*This item is in limited stock, buyer can buy 3 bare PCB or 1 PCB with ES9028PRO DAC chip each time. Please contact us if you want to buy more than three, thanks.
Data sheet
Length

100mm

Width

100mm

Thickness

1.6mm
Customers who bought this product also bought: