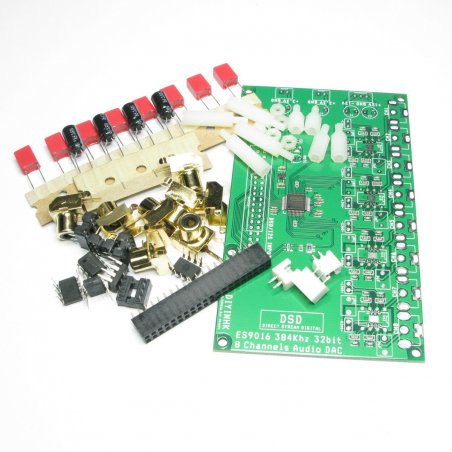  
8 Channels 384kHz 32bit ES9016 PCM DXD DSD Audio DAC
4 layer PCB, Solid ground plane
USB Type-C socket, Gold plated RCA socket
Ultra low noise linear regulator
Free 0.96 OLED display until stock last
BUY 1pc $20 OFF, 2pcs $60 OFF! Limited time only
This item includes 4 layer PCB with all SMT component soldered, thru-hole component are not soldered.
Features:
1) ES9016 32-bit 8-channel audio DAC includes all the benefit and feature of the famous ES9018 and it also support upto 500kHz 8 channels PCM and DSD. 
2) 4 layer PCB, solid ground plane (a must for high speed digital circuit)
3) Gold plated RCA socket

4) Ultra low noise linear regulator.
5) Advance diyer can use the preallocated soldering pads in the PCB to install surface mount Opamp (LME49880 on the top side or OPA1622 on the bottom side) and local oscillator for async MCK operation. The PCB also includes 2.54mm spacing socket direct from the DAC differential output for user to connect their favourite IV stage and bypass the default onboard.

6) Compact size 120mm x 70mm
Specification:

1) I2S/DSD Input: please refer to the ES9016 datasheet
2) Output level: 2V RMS 8 channels
3) Resolution/Sampling Rate: upto 32bit / 384KHz
4) Supply: Regulated 3.3V1(800mA), 3.3V2(200mA), +-12V(300mA)

User Guide:
1) No drivers needed for MAC OS version 10.6.4  and above, No drivers installation required for Linux with UAC2 compliant kernel
2) Full feature signed driver for windows 7/8/10 is available for purchase in the driver download area.
http://www.diyinhk.com/shop/9-driverdatasheetmanual
3) Use a fresh install of windows and a dedicated USB port always avoid problem and run stable,
4) Windows is always output stereo by default. For windows 7, users are required to select the multichannel sound device and press configure to set each channel output speaker.

FAQ:
1) Can I playback multichannel DSD? Can I playback 8 channels 384k PCM?

ES9016 can playback multichannel DSD and 8 channel 384k PCM, but the current xmos firmware only playback 2 channel DSD and 8 channel 192kHz PCM. User can wait for the newer firmware from XMOS or user can modify the firmware themselve to support multichannel DSD and 8 channels 384k PCM immediately. (Please notes the item price includes only the hardware. For programming support, please refer to the xmos official website and xcore.com for question about xmos programming, the PCB portmap is shown in the store XMOS multichannel PCB item image)

Tips:
1) The multchannel XMOS PCB uses all linear regulator, it requires 3.3V and upto 800mA external power supply(our test shows ~500mA during normal operation). It will not start if the power supply cable is too thin or the contact is not firm enough. The cable and contact resistance can drop the real supplied voltage to the XMOS chip during high current loading, the onboard voltage monitor chip will try to reset the xmos again and again if the voltage is drop below the threshold.

*The usb audio source code can be downloaded from xmos.com and xcore.com.

*This item is in limited stock, maximum two per buyer. Please contact us if you want to buy more than two.
*OEM are welcome, large discount on volume pricing, free customized logo on the bottom right corner of the OLED display for 10pcs+ order.

Data sheet
Length

50mm

Width

30mm

Thickness

1.6mm
Customers who bought this product also bought: