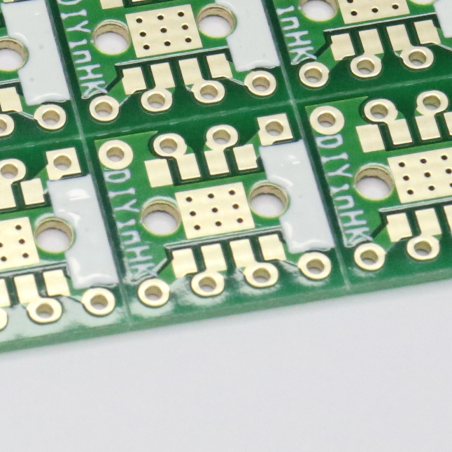  
2017 Version SOIC to DIP-8 Convert SMD PCB Adapter 36pcs
This bid Includes 36 pieces PCB, h

eader pin not included available separately

LME49880 compatible
This is the 2017 version PCB manufactured from a precision factory with our renowned design(LME49880 compatible), 10x10x0.8mm only!

The best quality SOIC-8 to DIP-8 Adapter!
Board Material: FR4
Copper thickness: 2oz
Surface treatment: Gold Plated
Number of Layer: 2
Dimension: 10x10x0.8mm
(2017 version manufactured by a precision factory)
** This GOLD PLATED version especially suitable for the DIYER Audio Equipments upgrade modifications. ***
DIYINHK Direct Convection Cooling System:
1. There are two big hole near the centre of the adapter PCB.
2. When the circuit is running, the IC/opamp heat up the cool air in the hole.
3. Hotted air moving upward in the hole by the rule of nature.
4. The air movement is just like blowing the SMT IC with fan slowly!
Assembly Tips:
1. This is a DIY pcb, use bread board or IC socket to fix the parts for soldering easily.
2. The shorter and thicker end of the golden header pin is soldering to the PCB.
Important notes: Test each point to avoid short circuit before plug in the main circuit.

Why Choose US?
All adapter available in the market has serious quality and design fault.
You can simply search the web to see how those so call professional design are terrible.
1. unnecessary via (inductance problem in the signal path)
2. long and parallel copper trace routing (interference and signal degrade problem)
3. narrow and thin copper trace (small current tranfer limit)
4. traces direct underneath each other on two side of the board (capacitance problem)
Replace all your current soic to dip adapter NOW and see the different!
Worldwide Shipping by Registered Airmail
(Mail Tracking is available from Hong Kong Post WebSite)
Data sheet
Length

10mm

Width

10mm

Thickness

0.8mm
Customers who bought this product also bought: