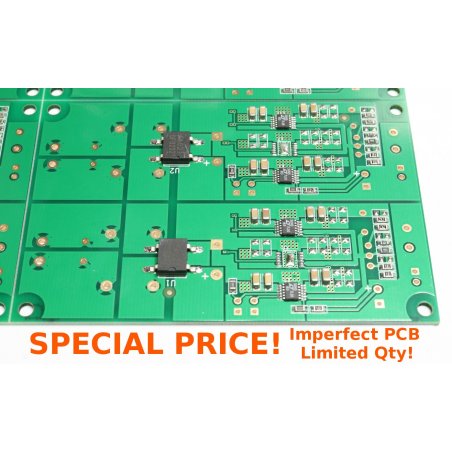  
0.56uV Ultralow noise DAC power supply regulator 3.3/5/7V 2A*x2 PCB only
Quad LT3045 low noise llinear regulator in parallel
0.56uV low noise on each rail
(Imperfect PCB) Limited amount at special price!
This item includes PCB with SMT component soldered, NO thru-hole component is included.
Notes for special price of this impefect pcb:
Due to SMT factory material error, unknown and under-rated MLCC capacitor (1206 size) was soldered on some of our PCB.
It is now sale at special price (with NO thru-hole component included) for advance user to enjoy.

This PCB can be used but it is highly recommend the user to replace all the 1206 MLCC capacitor before using it.
For general user, the normal PCB kit includes thru-hole compoents is available at the below URL in our store.

http://www.diyinhk.com/shop/audio-kits/131-056uv-ultralow-noise-dac-power-supply-regulator-3357v-14ax2.html
*This item is in limited stock, maximum 2pcs per buyer. Please contact us if you want to buy more than 2, thanks.
Data sheet
Length

90mm

Width

60mm

Thickness

1.6mm
Customers who bought this product also bought: