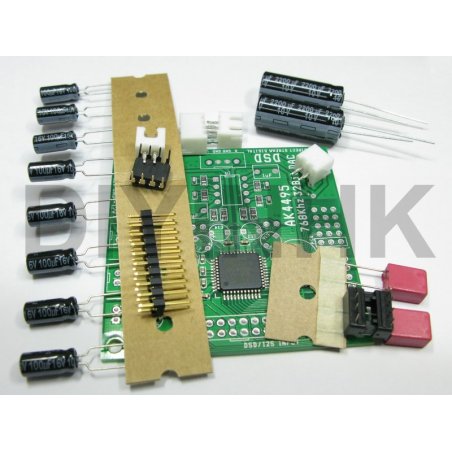  
768kHz/32Bit AK4495SEQ DAC, I2S/DSD input
Industry first 768K 32bit PCM audio and 5.6Mhz DSD sound
The AK4495SEQ is a 32-bit DAC, which corresponds to high-performance, high sound quality digital audio systems such as DVD-Audio and BD. An internal circuit includes newly developed 32-bit digital filters for better sound quality, achieving low distortion characteristics and wide dynamic range. The AK4495SEQ has full differential SCF outputs, removing the need for AC coupling capacitors and increasing performance for systems with excessive clock jitter. The AK4495SEQ accepts up to 768kHz PCM data and 5.6MHz DSD data, ideal for a wide range of applications including Network Audio and SACD.
This item includes PCB with all SMT component soldered, thru-hole component are not soldered.
*The XMOS PCB in the kit is flashed with our AK4490/4495 customized bit perfect lossless I2C DSD and PCM volume control firmware, it send software command and switch AK4490/4495 between DSD and PCM playback. We are the first (since last year 2014) and still the only one (as of today 2015) in the major market can achieve DSD volume control from the PC os mixer bit perfectly. We are proud to ahead of the major market for at less one year. Please notes AK4490/4495 can only playback PCM when running in the default non software control mode.

Zero pop/click noise is achieved when switching DSD/PCM mode or shuffling through DSD song file in either DoP/Native DSD mode(tested in foobar) with our new 768K XMOS PCB flashed with our fine tuned ak449x customized firmware. Please notes small pop/click noise still exist when it is used with the 384K BGA XMOS PCB.

Features:
1) 768KHz/32Bit AK4495SEQ DAC Chip

2) Solid ground plane with careful split of digital and analog portion(a must for highest fidelity audio)
3) No Via in active circuit (via inductance always create jitter problem)
4) 0.1% Low noise thin film resistor and C0G Capacitor sourced from Digikey USA (guarantee no fake product from China)
5) 2200uF panasonc Low ESR capacitor at VREFH/L pin for super bass response and highest performance at 20Hz range frequency.

6) Gold plate I2S input connector and four GND return path dedicated for each I2S signal(lowest contact resistance and highest signal quality)
User guide:

1)The AK4495SEQ PCB can work immediately with only I2S signal and power supply connected, one 3.3V (>300mA), one 5.0V (>100mA) and one +-12V (>100mA) regulated power supply in the default parallel operation mode.
2)For Diyer requires more deeper customization or switch to DSD playback(software I2C command is needed), the latest veraion of AK4495 datasheet is available in the official AKM website.
3)The PCB is designed to be DIY friendly. Diyer can cut the trace and uses the socket labelled AVDD_R(5.0V), DVDD(3.3V) for individual power supply to the Left and right analog power supply and digial supply.

4)The differential output directly from the DAC has labelled with preallocated 2.54mm spacing socket for diyer easily connecting to their favorite IV and LPF and bypass the default onboard one.

5) All dual opamp in single dip8 package IC can be used for this PCB output stage, such as OPA2134 AD8620 etc. One free opamp is included in the package and the model depends on stock.
6) Compact size 60mm x 60mm
Additional user guide when used with XMOS PCB flashed with our AK4490/4495 customized bit perfect lossless I2C DSD and PCM volume control firmware:
1) Install jumper on AK4495 PCB PSN socket and SET it to LOW. The DAC will start to run in software control mode.

2) With our customized firmware, the audio data send to the DAC is always bit perfect and the volume control is done in the DAC chip. DSD volume control is available using the operating system mixer.

Without DAC specified firmware, the OS mixer will ruin the audio data if the volume is not set to full and DSD can only be playback at full volume.

Please notes the maxiumum sampling rate is limited by the XMOS PCB.
For advance user only when AK4495 is used with isolated XMOS PCB:
1) To avoid click noise occurs during replug of USB cable, remove FB1 and uses external 5v supply to CN3. Please notes reversed polarity or over voltage can damage the xmos chip immediately.

Specification:
1) I2S Input (MCLK, LRCK, BCK, DATA, GND)
2) Output level: 2V RMS

3) Resolution/Sampling Rate: Up to 32bit/768KHz
4) Supply: Regulated 3.3V, 5V, +-12V
*According to the AK4495 official datasheet page 41 notes 6 and our test, click noise occurs during power on/off, external mute circuit may be needed if click noise adversely affect system performance.
*Our latest D1X headphone amplifier includes power on delay and instant off output relay. It can mute the power on/off click noise of AK4495/AK4490 as well as all the other DAC chip requires this feature.

*For normal user, the newer AK4490 should be a better choice than AK4495. AK4490 has better THD+N, lower cost and officially support upto 11.2Mhz DSD. AK4495SEQ is the first 768k DAC chip from AKM and it can be used as a reference for advanced user. Both can playback DSD512 file in our lab test condition.

Customers who bought this product also bought: