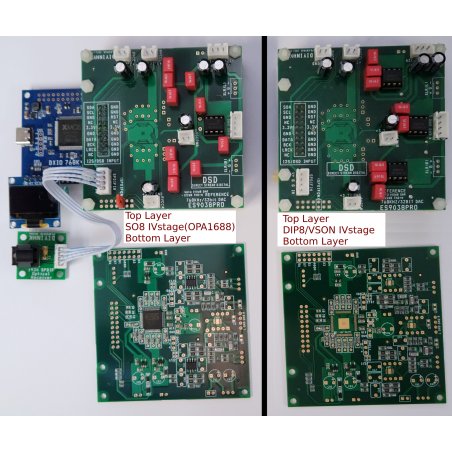  
ES9038PRO XMOS DSD DXD 768kHz USB DAC with SPDIF input and Bit-perfect volume control
Four layer pcb with two solid ground plane
Low noise thin film resistor and C0G capacitor
*2023 Two new version is available. IV stage with onboard OPA1688 or DIP8/VSON IC footprint, the circuit is the same. (XMOS PCB direct mount on the DAC PCB, shorter signal path for higher external EMI noise rejection, no 20P flat cable need)
*FREE option below is included in xmos pcb combo until stock last
(1)FIFO reclock PCB (2)Optical spdif receiver PCB (3)0.96 OLED PANEL

ES9038PRO is the new flagship model 140dB DNR -122dB THD+N from ESS technology who also make the renowned ES9018. It includes the same Patented Time domain Jitter Eliminator used in ES9018 and latest PLL enhancement.The DAC direct differential current output is 4x more than ES9018S/ES9028PRO, for easier understanding ES9038PRO is equal to "four ES9018S(or ES9028PRO) in parallel!" plus more advanced features.
This ES9038PRO four layer PCB uses ultralow phase noise NDK NZ2520SD 80Mhz oscillator with optimized layout, 2mm decouple capacitor distance, 12 dedicated decouple capacitor for each power supply pin and selected high quality components(0.1% low noise thin film resistor, C0G capacitor in the LPF, WIMA Film capacitor and panasonic low ESR aluminum electrolytic capacitor etc), it can playback upto 768khz I2S/DSD512 input asynchronously with power on default setting and no unlock problem.

*This single ES9038PRO DAC PCB can be used individually with only 3 wire I2S signal connected from Raspberry Pi, BeagleBone Black, cm6631a, amanero etc. (This ES9038PRO DAC can also be used standalone to receive SPDIF directly, the 3.3v SPDIF should be connected to the 20pin header labelled BCK and GND)

*When this ES9038PRO PCB used with our customized I2C control firmware XMOS USB PCB, extra features include a simple jumper(labeled SPDIF ON) to switch between SPDIF(labeled SPDIF IN) and USB input, bit perfect volume control as well as DSD/PCM playback in foobar without the need to switch ASIO driver everytime.
*All SMT component are soldered(includes no ES9038PRO DAC chip option), some thru-hole component are not soldered.
Feature:
1) 768KHz/32Bit ES9038PRO DAC Chip (industry's leading level low distortion characteristics and wide dynamic range.)
2) Four layer PCB and two middle solid ground plane with careful split of digital and analog portion(a must for highest fidelity audio)
3) 0.1% Low noise thin film resistor and C0G Capacitor sourced from Digikey USA (10x higher price than those thick film resistor from China)
4) Three Low noise 1.2V onboard regulator and Burr-Brown Audio OPA1688 low distortion high drive IV stage opamp from Texas Instruments.
5) No Via in active circuit (via inductance always create jitter problem)
6) Bit perfect lossless I2C volume control firmware for DSD and PCM when used with the bundled XMOS PCB flashed with our customize firmware.(we are proud to be the first one and still the only one in the market can include this important feature since two year ago!) Without this important feature, the audio data send to DAC chip is ruined if the user is not playback at full volume from the computer operation system.
The common problem of most DAC in the market is seperated the DAC volume control from the windows/mac/linux operation system mixer. i.e. The volume control on the DAC is not linked to the computer playback software. The original audio data will be changed again and again before the user can listen.

Most people may not notice many so called "bit-perfect" device on the market is bit-perfect ONLY when you playback at full volume. If the volume is not set to maximum in the computer, the audio data is scaled/altered/ruined before sending to the DAC chip and the result is signal to noise ratio seriously affected.
Related paper on this important feature:
http://www.esstech.com/PDF/digital-vs-analog-volume-control.pdf
Compare the audio data flow path:
General device on the market: "Partial" Bit-perfect only at full volume
Computer -> USB -> XMOS/CMxxxx/AMxxxxx -> I2S(audio data scaled/altered if not at full volume) -> DAC Chip (es9018/cs4398/pcm1794 etc.)

This USB DSD DAC: Complete Bit-perfect at any volume
Computer -> USB -> XMOS -> I2S(audio data bit perfect at any volume)+IIC volume control -> DAC Chip (es9018/cs4398/pcm1794 etc.)

After many hours of work on customize the xmos firmware on this USB DSD DAC, audiophiles can move the volume control bar up and down freely in the computer volume mixer panel and still enjoy bit perfect audio. DSD audio as well as PCM audio can also be bit perfect volume control easily from the computer. Please notes there are many so called bit-perfect device can play DSD but you must set the computer master volume control to full volume.

FAQ:
1) Does the volume is controllable in Windows/MAC/Linux when playing DSD using this combo? I find that I cannot control the DSD volume when using the other famous brand DSD USB output adapter
The DSD sound volume is controllable using our xmos DSD combo in all USB audio 2.0 compatible OS including WINDOWS/MAC/LINUX system volume mixer.
2) Do I need to switch ASIO driver everytime when playing between PCM and DSD music file? I find it's annoying to do it when using the other famous brand DSD USB output adapter.
Our xmos combo can use the same output ASIO: foo_dsd_asio in foorbar2000 to play PCM and DSD music file. No need to go to foobar2000 preferences everytime to change the output device.

3) Is the xmos i2s Bit-perfect volume control PCB in the combo can be used connect to other DAC chip?
Different DAC chip require different IIC volume control command and different DSD PCM switch command. The XMOS PCB in this combo is designed only for use in this combo.

4) Is circuit schemetic available?
The circuit is designed and printed on the PCB directly.

5) Some people told uses IIC software control can interference the DAC performance, is it true?
We do not know other design but our IIC volume control is only active when the user is moving the volume bar to change the volume, it is totally stopped when not in use. 

6) What sampling rate are supported?
44.1-768khz and DSD64 DSD128 DSD256 DSD512

7) Any annoying pop sound when playing between PCM and DSD format?
No pop sound. The ES9038PRO has automute feature when switch between pcm and dsd.
8) What is the major different when this DAC PCB is used with xmos pcb flashed with our specific firmware?
The dac pcb standalone can work immediately to playback PCM with any 3wire i2s source following the industry i2s standand. The xmos pcb flashed with our es9038pro specific firmware send software command to set the es9038pro register. It adds dsd playback, usb/spdif jumper switch, and lossless bitprefect digital volume control feature etc.
9) Can I increase the voltage of AVCC to higher than 3.3V as I done to the old ES9018?
The ES9038PRO offical specification of AVCC_L / AVCC_R is 3.3V+-5%. We have prototype tested higher voltage, it is partial damage and it have problem playing 384kHz sampling rate afterward.(playback 192kHz do still work)
10) I want ES9038PRO bundled with isolated xmos pcb option, can it be available?
In the past, our test shows that the nonisolated xmos pcb is better when used with ES9038PRO if asynchronous MCK is used. But after our FIFO reclock PCB addon is released, the increased i2s jitter from the isolated chip on the isolated xmos pcb is elimated and it can sound better than the nonisolated xmos pcb without FIFO reclock pcb.

User guide:
1) This PCB can work immedately with four 3.3v and +-12v regulated power supply and three wire I2S audio data DATA BCK LRCK.
1) NDK NZ2520SD 80Mhz low phase noise oscillator is connected to the XIN of ES9038PRO on the DAC pcb in 1CM short distance(async MCK default). User can also try other offboard oscillator easily by disable this onboard oscillator using the behind /EN socket(short=disable). 
2) The WIMA and panasonic low ESR capacitor can be installed on the top(like the image) or bottom side. Install the capacitor on the bottom side and soldering on the top side can avoid damage to the small smt component. But the disadvantage is modifcation on the SMT component will be harder, as the size of thru hole component make replace the surrounding smt component harder.

3) The SPDIF input(labeled SPDIF IN) signal level requirement is 3.3V, it is directly connected to the ES9038PRO DAC chip to achieve lowest jitter performance. It can be used to connect SPDIF optical receiver directly(Toshiba TORX147 or equivalent). If it is used to connect coaxial SPDIF, an interface circuit must be used to convert the standard spdif 0.6Vp-p to 3.3V logic level.

4) For bit perfect playback at any volume when using our customized firmware XMOS ES9038PRO PCB combo, please use the Windows/MAC/Linux OS default builtin system master volume mixer control. Don't use the foobar volume control, it scale/alter/ruin the original audio data before send to the DAC chip.
5) The PCB is designed to be DIY friendly. the output stage includes soldering pads for OPA1622 opamp if the user want to drive headphone directly from the pcb output. 

6) The differential output directly from the DAC has labelled with preallocated 2.54mm spacing socket for diyer easily connecting to their favorite IV and LPF and bypass the default onboard one. The onboard default opamp IV stage can be disconnected by cutting J1,J2,J3,J4 just after the 2.54mm socket(be careful do not cut too deep and short the middle layer, this is a four layer board), or simply removed the opamp and IV resistor. But it is always better to let the pcb work with it's onboard default opamp output stage before any modification as it is tested to work and work great.

7) All dual opamp in single dip8 package IC can be used for this PCB output stage, such as OPA2134 AD8620 etc. One free opamp is included in the package and the model depends on stock.
8) This PCB can also be installed with ES9018, ES9028PRO with little modifcation(four IV resistor, alt reset level, cut 38 short 18 jumper smart wiring)

9) For Diyer requires more deeper customization, the ES9038PRO datasheet can be requested from ESS authorized distributor directly.
DSD playback steps using foobar2000 in Microsoft Windows:
1. Download and install the latest version of Foobar2000 from the official website

http://www.foobar2000.org/download

2. Download and install the official ASIO output plug-in for Foobar2000

http://www.foobar2000.org/components/view/foo_out_asio

3. Download the latest version of Super Audio CD Decoder plug-in for Foobar2000

http://sourceforge.net/projects/sacddecoder/files/foo_input_sacd/

3a) unzip and double click to install ASIOProxyInstall-x.x.x.x.exe

3b) Foobar > Files > Perferences > Components > Install > foo_input_sacd.fb2k-component

4. Configure the output device: Foobar > Files > Perferences > Playback > Output > Device (ASIO: foo_dsd_asio)

5. Configure the ASIO output: Foobar > Files > Perferences > Playback > Output > ASIO > foo_dsd_asio(double click)

5a) ASIO Driver: DIYINHK DXIO USB Audio

5b) DSD Playback Method: DoP Marker 0x05/0xFA

6. Foobar > Files > Perferences > Tools > SACD > ASIO Driver Mode: DSD
More detail: http://www.google.com/search?q=foobar+dsd
 Specification:

1) Three wire I2S Input (LRCK, BCK, DATA, GND) (Do not requires MCK)
2) Output level: 2V RMS (single end), 5.6V*2 peak-to-peak(XLR balance out with offset)

3) Resolution/Sampling Rate: upto 32bit / 768KHz, DSD512

4) Power supply: 3.3V 500mA(DAC DVCC), 3.3V 200mA(AVCC_L), 3.3V 200mA(AVCC_R), 3.3V 100mA(nz2520sd oscillator), +-12V 100mA(IV opamp stage)
5) PCB Size: 80mm*80mm*1.6mm four layer

Assembly Instruction:

1) Double check the polarity of all capacitor is correct and no short circuit of soldering joint to each other before connect power input to the PCB, the capacitor will explode immediately if it is reversed connected. No return is accepted after the pcb is soldered.
*All SMT components on the PCB is assembled by pick an place machine in one step, the outcome is professional. ES9038PRO is soldered one by one manually afterward when order is received, no cleaning need soldering flux is used, some flux may remain on the PCB, it will not affect the PCB performance and usage.

*PCB without DAC chip option has plently of stock, user are welcome to order as many as they like. PCB with DAC chip option has limited stock, maximum one per buyer. Please contact us if you want to buy more than one, thanks.
Customers who bought this product also bought: