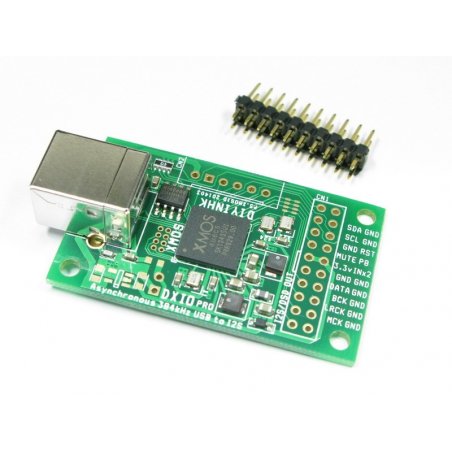  
XMOS DSD DXD 384kHz high-quality USB to I2S/DSD PCB
BUY 2 GET $20 OFF! limited time only
Using three NDK NZ2520SD Ultra low phase noise oscillator
Batch 8pcs+ includes free microsoft windows signed driver and device name shown as genuine XMOS USB Audio
XMOS DSD DXD 384kHz high-quality USB to I2S/DSD PCB (includes 2.54mm spacing 10x2row 30u gold plated header pins)

This is the best USB to I2S/DSD PCB for audiophile Diyer to enjoy.
Feature:
1) Newest XMOS chip and uses 48MHz oscillator to asynchronous reclock usb audio data to I2S line, old XMOS uses only 13Mhz oscillator, over 4x better jitter rejection theoretically.
2) Solid ground plane (a must for high speed digital circuit)
3) No Via in active circuit (via inductance always create jitter problem)
4) NDK NZ2520SD Ultra low phase noise oscillator and Murata capacitor sourced from Japan directly (guarantee no fake product from China)
According to the official datasheet, the phase noise of NZ2520SD is much better than the famous crystek 957 under 25khz(human listenable range)
For easier comparsion(lower is better), we overlay the two phase noise graph at the same scale, under 25khz(human listenable range) nz2520sd(red line) is better, over 25khz(human unlistenable range) crystek 957 is better.
5) Gold plated USB connector (Molex, FCI, or other depends on stock)
6) Compact size 50mm x 30mm
7) PCB uses external 3.3V(>150mA) regulated power supply, it is usually connected to the same 3.3v digital power DAC is using(warning: over-voltage or reverse-voltage can damage the xmos chip immediately, double check before power on)
8) Extreme diyer can cut and install series resistor in the pre-allocated 0805 footprint space in the I2S line to match their DAC line impedance
No drivers needed for MAC OS version 10.6.4  and above
No drivers installation required for Linux with UAC2 compliant kernel
ASIO/KS/WASAPI/Direct Sound drivers for Windows XP to 8 (32 and 64 bit)
Fully featured Thesycon driver package (without 30 min. periodic beeps)
Windows 7/8/Vista/XP Driver is available to download from our website
http://www.diyinhk.com/shop/9-driverdatasheetmanual
*USB2.0 is a must for 384kHz operation
*Use a fresh install of windows and a dedicated USB port always avoid problem and run stable
*The length of I2S connection to your DAC chip should be as short as possible for best result and below 10cm is recommended
Please check your DAC should support the following I2S signal specification to decode each sampling rate:
| | | | |
| --- | --- | --- | --- |
| DATA | LRCK | BCLK | MCLK |
| 16/24bit | 44.1kHz | 2.8224Mhz | 22.5792Mhz |
| 16/24bit | 48kHz | 3.072Mhz | 24.576Mhz |
| 16/24bit | 88.2kHz | 5.6448Mhz | 22.5792Mhz |
| 16/24bit | 96kHz | 6.144Mhz | 24.576Mhz |
| 16/24bit | 176.4kHz | 11.2896Mhz | 22.5792Mhz |
| 16/24bit | 192kHz | 12.288Mhz | 24.576Mhz |
| 16/24bit | 352.8kHz | 22.5792Mhz | 22.5792Mhz |
| 16/24bit | 384kHz | 24.576Mhz | 24.576Mhz |
DSD playback steps using foobar2000 in Microsoft Windows and MAC:
1. Download and install the latest version of Foobar2000 from the official website

http://www.foobar2000.org/download

2. Download and install the official ASIO output plug-in for Foobar2000

http://www.foobar2000.org/components/view/foo_out_asio

3. Download the latest version of Super Audio CD Decoder plug-in for Foobar2000

http://sourceforge.net/projects/sacddecoder/files/foo_input_sacd/

3a) unzip and double click to install ASIOProxyInstall-x.x.x.x.exe

3b) Foobar > Files > Perferences > Components > Install > foo_input_sacd.fb2k-component

4. Configure the output device: Foobar > Files > Perferences > Playback > Output > Device (ASIO: foo_dsd_asio)

5. Configure the ASIO output: Foobar > Files > Perferences > Playback > Output > ASIO > foo_dsd_asio(double click)

5a) ASIO Driver: DIYINHK DXIO USB Audio

5b) DSD Playback Method: DoP Marker 0x05/0xFA

6. Foobar > Files > Perferences > Tools > SACD > ASIO Driver Mode: DSD

More detail: http://www.google.com/search?q=foobar+dsd
User guide:
1. External regulated 3.3V power supply is connected to CN1 pins label 3.3vINx2
2. For DSD playback, LRCK= DSD D1(Left channel), DATA= DSD D2(right channel), BCK = DSD Bit Clock
3. For DSD playback, windows volume mixer must be set to full volume.
4. If you do not play DSD from the computer, the PCB will not output DSD signal. It's the same as our old PCB without DSD
5. Pins labeled (SDA SCL RST MUTE P8) in CN1 are reserved for used with DAC firmware customization(i.e. software control different DAC with different firmware), it should be left unconnect. CN2 Pin labelled DSDon is high when playing DSD and low when playing PCM.

6. Different DAC require different software command to switch between DSD and PCM mode. Please read the corresponding DAC datasheet for detail.
7. Please also check our highest c/p USB DSD DAC combo with custimized firmware and Bit-perfect volume control.

This item is in limited stock, maximum three per buyer. Please contact us if you want to buy more than three, thanks.
Data sheet
Length

50mm

Width

30mm

Thickness

1.6mm
Customers who bought this product also bought: