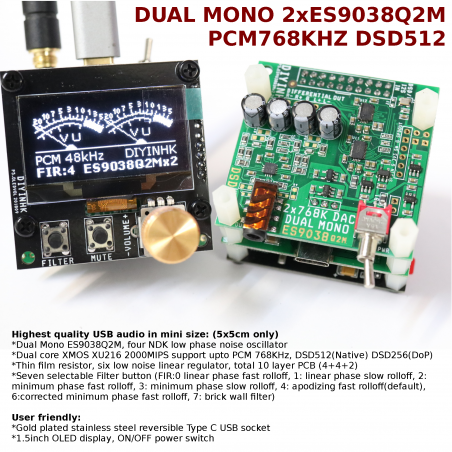  
Dual Mono ES9038Q2M XMOS DSD DXD 768khz USB Audio DAC with Bit-perfect volume control
Dual mono, dedicated DAC chip for each channel.
Total 4pcs NDK low phase noise oscillator, 6pcs TI low noise linear regulator
Low noise thin film resistor and C0G capacitor
4 layer DAC PCB, 4 layer XMOS PCB
Startup delay speaker output to avoid pop noise*
Bit perfect encoder volume control
(If the dual mono DAC PCB is not used with the bundled xmos PCB, external MCU is needed to set each DAC chip register to left and right channel operation)

This is the first fully assembly Audio DAC from us. Audiophile can enjoy their favourite music from the computer immediately. The golden knob can be pull out easily if the user have their customized case when install the front panel

All buyer of the fullly assembly Audio DAC can enjoy 2 month free* try! This item is fully assembly and fine tuned, we have confidence you will like it.
Conditions: (no physical damage/modification, the item must be the same outlook as it was received, user is responsible for the return shipping fee and USD30 administration fee. The total amount paid minus USD30 will be refunded by paypal after the item is returned to us. Please send the return package tracking number for us to follow the case.)
Feature:
Highest quality USB audio in mini size: (5x5cm only)

Dual Mono ES9038Q2M, four NDK low phase noise oscillator

Dual core XMOS XU216 2000MIPS support upto PCM 768KHz, DSD512(Native) DSD256(DoP)

Thin film resistor, six low noise linear regulator

10 layer PCB (4+4+2),

digital and analog part are carefully separated




Bit perfect encoder volume control

Seven selectable filter button, FIR:0 linear phase fast rolloff, 1:

linear phase

slow rolloff, 2: minimum phase fast rolloff, 3: minimum

phase

slow rolloff, 4: apodizing fast rolloff(default), 6:corrected minimum phase fast rolloff, 7: brick wall filter

User friendly:

Gold plated stainless steel

reversible

Type C USB socket

1.5inch OLED display, ON/OFF power switch
User guide:
1) Connect the USB cable, turn on the power switch, the OLED display light up, and it can be used immedately.

2) The differential output directly from the DAC chip is labelled and connected to 2.54mm spacing socket for diyer easily connecting to their favorite IV and LPF(i.e.bypass the default onboard one). The onboard default opamp IV stage can be disconnected by removing the four electrolytic capacitor. (Please test and enjoy the onboard default opamp output stage before any modification as it is tested to work and work great, modification to use external IV stage can damage the dac chip easily)

DSD playback steps using foobar2000 in Microsoft Windows:
1. Download and install the latest version of Foobar2000 from the official website

http://www.foobar2000.org/download

2. Download and install the official ASIO output plug-in for Foobar2000

http://www.foobar2000.org/components/view/foo_out_asio

3. Download the latest version of Super Audio CD Decoder plug-in for Foobar2000

http://sourceforge.net/projects/sacddecoder/files/foo_input_sacd/

3a) unzip and double click to install ASIOProxyInstall-x.x.x.x.exe

3b) Foobar > Files > Perferences > Components > Install > foo_input_sacd.fb2k-component

4. Configure the output device: Foobar > Files > Perferences > Playback > Output > Device (ASIO: foo_dsd_asio)

5. Configure the ASIO output: Foobar > Files > Perferences > Playback > Output > ASIO > foo_dsd_asio(double click)

5a) ASIO Driver: DIYINHK DXIO USB Audio

5b) DSD Playback Method: DoP Marker 0x05/0xFA

6. Foobar > Files > Perferences > Tools > SACD > ASIO Driver Mode: DSD
More detail: http://www.google.com/search?q=foobar+dsd
 Specification:

1) Industry standard USB Audio 2.0

2) Output level: 2V RMS (single end)

3) Resolution/Sampling Rate: upto 32bit / 768KHz, DSD512

4) Power supply: USB 5V
5) PCB Size: 3x 50*50mm
No drivers needed for MAC OS version 10.6.4 and above
No drivers installation required for Linux with UAC2 compliant kernel
ASIO/KS/WASAPI/Direct Sound drivers for Windows 7 to 10 (32 and 64 bit)
Fully featured Thesycon driver package (without 30 min. periodic beeps)
Latest version of Windows 10 already includes built-in USB audio driver, this device can be used immediately without installation of any driver.
For advance usage, Windows 7/8/10 Driver is available for download from our website:
Driver V4.11 for Windows 7/8/10:
V4.11 for device after 2018-02 (PID2009)
Driver V4.13 for Windows 10 only:
V4.13 for device after 2018-02 (PID2009)
FAQ:
 1) Does the volume is controllable in Windows/MAC/Linux when playing DSD using this combo? I find that I cannot control the DSD volume when using the other famous brand DSD USB output adapter
The DSD sound volume is controllable using our xmos DSD combo in all USB audio 2.0 compatible OS including WINDOWS/MAC/LINUX system volume mixer.
 2) Do I need to switch ASIO driver everytime when playing between PCM and DSD music file? I find it's annoying to do it when using the other famous brand DSD USB output adapter.
Our xmos combo can use the same output ASIO: foo_dsd_asio in foorbar2000 to play PCM and DSD music file. No need to go to foobar2000 preferences everytime to change the output device.

 3) Some people told uses IIC software control can interference the DAC performance, is it true?
We do not know other design but our IIC volume control is only active when the user is moving the volume bar to change the volume, it is totally stopped when not in use. 

4) What sampling rate are supported?
PCM 44.1-768khz and DSD64 DSD128 DSD256 DSD512(native)

5) Any annoying pop sound when playing between PCM and DSD format?
No pop sound. The ES9038Q2M has automute feature when switch between pcm and dsd.
Design:
*Bit Perfect = audio data received by the dac chip is exactly the same as the song file from the computer harddisk.
To achieve it, either the user is playing at maximum volume, or doing the volume control inside the dac chip or after the dac chip(preamp analog volume control)
The only way to do volume control inside the dac chip is using mcu to control the dac volume register.(xmos flashed with our advance specific firmware can do it without extra mcu which causes unnecessary digital noise)

The common problem of most USB DAC in the market is separated the DAC volume control from the windows/mac/linux operation system mixer. i.e. The volume control on the DAC is not linked to the computer playback software. The original audio data will be changed again and again before the user can listen.

Most people may not notice many so called "bit-perfect" device on the market is bit-perfect ONLY when you playback at full volume. If the volume is not set to maximum in the computer, the audio data is scaled/altered/ruined before sending to the DAC chip and the result is signal to noise ratio seriously affected.
The XMOS in this USB audio DAC is flashed with our advance custom firmware, it can forward the user's volume control in windows or the physical volume encoder to the DAC internal volume register directly, and playback bit-perfect in any volume level.
*Rapidly switching the device off and on in succession can cause pop noise. After turn off the device, wait for at least two seconds before turn it on again

*This item is in limited stock, maximum one per buyer. Please contact us if you want to buy more than one, thanks
Customers who bought this product also bought: