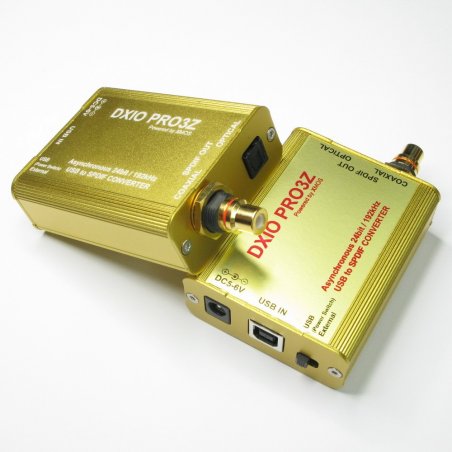  
XMOS 192kHz high-quality USB to SPDIF with ultralow noise 1uV regulator w/manual power switch
NDK NZ2520SD Ultra low phase noise oscillator
World's lowest noise 1.0uV regulator from Analog Devices or 0.8uV from Linear Technology
New DXIO PRO3Z uses the latest XMOS XCORE-200 XU216-512, it is equal to Two XU208 in One chip.
4+2 layer PCB = total 6 layer PCB
*This item may required 1-2 week to ship, it is built and tested one by one in my spare time.

XMOS 192kHz high-quality USB to SPDIF with ultralow noise 1.0uV/0.8uV regulator

with high-quality aluminium housing and gold plated RCA connector

This is the best USB to SPDIF for audiophile to enjoy.
Feature:
1) The XMOS used in this pcb is XU216 2000MIPS and it contains two tile. It is equal to two XU208 combined in one silicon chip, one dedicated tile is used for the USB data and the other tile is dedicated to process the audio data to the DAC. XU216-512 includes 4x more ram than xu208-128, 8x more ram than U8/U6.

2) C0G AC coupling capacitor (All SPDIF output equipment requires AC coupling capacitor to avoid the isolated transformer saturated by DC bias component, if no grey color(C0G) capacitor is found in the PCB, that SPDIF equipment can be considered as low end)
3) Ultra low phase noise NDK NZ2520SD oscillator, thin film resistor and Murata isolated transformer (Be care the very common China made Pulse transformer in many 192khz SPDIF equipment is only capable of maximum 7Mbps(i.e. 96khz) according to the official datasheet.) Components are sourced from NDK and digikey directly (guarantee no fake product from China)
4) 1.0uVrms Ultralow noise linear power regulator (use of decade old LM317/1117 regulator is kidding for audiophile)
5) 4+2 layer PCB = total 6 layer PCB, Solid ground plane (a must for high speed digital circuit)
6) No Via in active circuit (via inductance always create jitter problem)
7) Compact size 60mmx 90mm x 25mm
8) PCB can be USB powered or manual switch to external power 5-6V. The external power socket uses the most common plugs size 5.5 mm (0.22 in) in outside diameter. Please notes any modification void item warranty

No drivers needed for MAC OS version 10.6.4  and above
No drivers installation required for Linux with UAC2 compliant kernel
ASIO/KS/WASAPI/Direct Sound drivers for Windows 7 to 10 (32 and 64 bit)
Fully featured Thesycon driver package (without 30 min. periodic beeps)
Windows 7/8/10 Driver is available to download from our website:
*Latest version of Windows 10 already includes built-in USB audio driver, this device can be used immediately without installation of any driver.

Driver V4.11 for Windows 7/8/10:
V4.11 for device after 2018-02 (PID2009)
V4.11 for device before 2018-02 (PID3072)
Driver V4.13 for Windows 10 only:
V4.13 for device after 2018-02 (PID2009)
V4.13 for device before 2018-02 with (PID3072)
*USB2.0 is a must for 192kHz operation
*Use a fresh install of windows and a dedicated USB port always avoid problem and run stable
This item is in limited stock, maximum 2pcs per buyer. Please contact us if you want to buy more than 2, thanks.
OEM are welcome, please contact us for volume pricing.
Data sheet
Length

60mm

Height

90mm

Width

25mm
Customers who bought this product also bought: