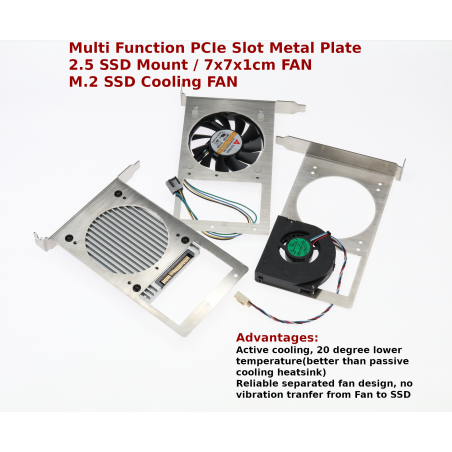  
Multi function PCIe slot metal plate M.2 SSD cooling fan 2.5 mount
no lag, SSD is always running at lower temperature
no vibration transfer from fan to ssd
DIYINHK Design
Multi function stainless steel computer case PCIe slot metal plate (by DIYINHK original design)

Variable speed PWM FAN from silent to high performance
(The model number of Fan may be changed from batch to batch, but the performance is the same)
*If you have other fan size or things need to mount on the plate, simply send us cad drawing for quota. customize plate design are welcome, only start from 10pcs/USD90.

Detail:
All SSD in the market is designed for working below 70-80 celsius degree temperature, it will lag and reduce it's speed if the temperature is too high. There are already many review on the internet about this problem.
If the SSD is always working at very high temperature, the electronic components on the SSD will also aging faster.
To best protect the value data and let the SSD always running in high performance mode without lag, this slot fan was designed by us. It do not have direct contact to the SSD as the other similar function product in the market, no vibration is tranferred from fan to the SSD. If the surrounding air of ssd is not well circular, passive heatsink do not help, passive heatsink can also easily void the m.2 ssd warranty when installed, the chip on different m.2 ssd always have different thickness, our separated blower fan design cool the ssd and avoid all of this problem.